EDUCATIONAL SUPPORT PROGRAM
We believe that every child should have the opportunity to reach his or her full potential. Accordingly, we seek out educational support programs that helps students, teachers and schools achieve success. Whether is it providing free weekly readers or funding school field trips to the Perot Museum, The Exchange Club of East Dallas offers funds to help our schools and their students.
We even help students with school uniforms and buy pizzas for those attending Saturday school.
Here are a few of our recent projects:
JL Long Middle School
New music stands 

Chairs

Microphones and amplifiers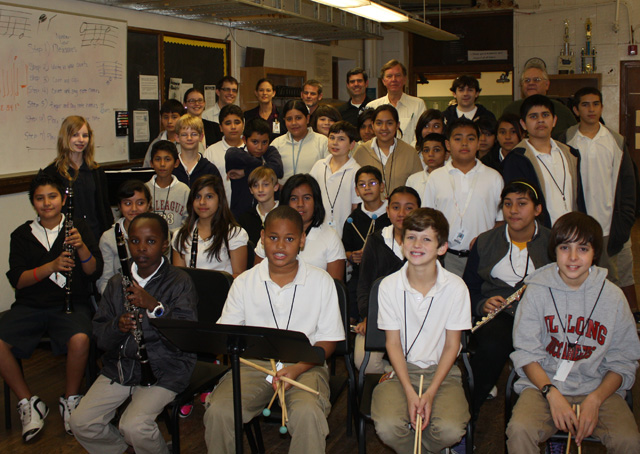 (Photo: Clay Drury and fellow Exchange Club member provided much of  the needed music stands and chairs for the Long orchestra students.)
Geneva Heights Elementary School
Laminating machine

-Purchase of a commercial machine to allow numerous projects, information boards, story boards, awards, etc to be placed on School walls and in classrooms to ensure these are durable and visible for students, educators and parents to see – benefits school communication and pride

Trophies for end of year awards

– Recognition awards for various excelling and special students
Lipscomb Elementary
Weekly Readers

-They are delivered to the kids at Lipscomb elementary every week. It brings students and teachers new nonfiction readings on current events and curriculum topics. Each issue features high-quality photographs and compelling articles that get kids excited to read and ready to learn. All of these publishings are specifically designed to meet the Common Core Standards. It challenges students to read closely and develop the higher order thinking skills that they need in order to succeed on important state tests

School Uniforms

– We help those children in need with providing school uniforms, underwear, and socks at the beginning of the year.
JW Ray Elementary School
Renaissance Learning online reading subscription – similar to reasoning minds
Reinheart Elementary School
30 stools for science lab

– They received new science tables, but had no stools to sit at the new tables

Two buses for field trips to Richland College

– This is part of their "Higher education program to get the 5th graders interested in collage.

Home & School Connection Newsletter

– Home & School Connection is a newsletter packed with practical ideas any family can use. Parents will learn how to: 

Improve school success, Strengthen the home and school partnership, Make learning fun with simple activities, Enhance parenting skills and discipline, Strengthen family life and build positive character traits.
Posters for special weeks such as "Character Counts"

– Character Counts is about teaching the kids to be better citizens and also speaks to issues such as No Bullying, how to make friends and in general how to treat others. "It not so much as what you do when others are watching as it what you do when no one is watching.

Award ribbons

– Given for healthy living, not doing drugs, eating right, etc.

Music Department Materials

– Music notebooks and recorders (flute like instruments) for kids that can't afford them.

3rd grade trip to the new Perot Museum of Nature and Science

– The teachers and staff at Reinheart Elementary School put this video together of a field trip that we sponsored for more than 80 third graders to the new Perot Museum of Nature and Science. One of our members, Mike McRae is the owner of Dick's Last Resort. He generously provided lunch for the whole group of well behaved and enthusiastic third graders.