The Oldest Tournament in Dallas!
In 1924 Jere Hayes, the sportswriter for the Dallas Times Herald, began to put together a contest that would allow boys to play in a golf tournament regardless of socioeconomic level, athletic abilities, or skill level. The tournament would be played over an entire week and at the end a champion in each age division would be crowned and receive a trophy. With a few moderations, the tournament is still true to his vision 97 years later.
Here are some interesting facts and feats of the last 97 years:
Chip Stewart won the tournament in 1964 and 1965. He was named the #1 player at Texas University and the #1 player in college golf during his sophomore year. Bill Manor won the Junior, was named #1 player at SMU his sophomore year and the #1 player in college golf the year after winning the Junior. This has only happened twice so far in the tournament's history.
The tournament, at one point, was 2 weeks long with up to 800 contestants. The first week was a qualifying round with all participants playing 18 holes (except for the Pee-Wees who played 9 holes). The second week was when match play began.
Don January won the tournament twice, in 1947 and 1948, and went on to North Texas where he played on their NCAA Championship team.
Ralph Guldhal won the tournament in 1928 and went on to win the National Open in 1937 and 1938. He followed those wins with a win in the Masters in 1939.
Girls were first allowed to play in 1965.
Nancy Hager won the girl's Open Division in 1966 and 1967. She went on to win the State Junior Championship in 1967, 1968, and 1970. She set an all time scoring record in 1968.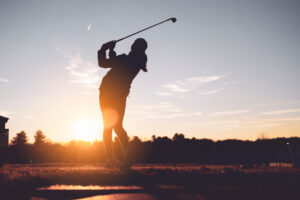 Rowe Hart and Leo Acker are the only three-time winners.of the Open Division
Lee Trevino and Spec Goldman both played in, but never won, the tournament.
In 1973 Bryan Steigman won the Open Division and in 1974 won the Dallas Golf Association Individual Championship. The only time that this has happened.
In 1963 Larry Thomas won the tournament at 16. Sixteen years later in 1989, Robbie Skinner won the tournament at 15. He is the youngest player to win the Open Division.
Justin Leonard won his first tournament playing in the Pee-Wee division of the tournament at Tenison Park.